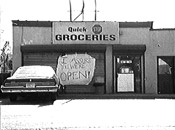 It's one louder then, isn't it?
archive:
Current
The Inescapable Role
Cult Classics
Why Bother? (Stupid Remakes)
Bug Flicks
Movie Serial Killers
Sports Flicks
Gangster Flicks

To(p) Eleven…

Never one to disappoint, I make up for the relative obscurity of the items on this list by giving you that little extra push over the cliff… One extra entry! Now don't you feel special. (Updated weekly and in no particular order.)

Gangster Flicks:


Miller's Crossing: Perhaps the Coens' least known films but still one of my favorites. Kickass dialog.
Ghost Dog: Forest Whitaker uncorks a can of whoop ass as Jarmusch's zen assassin in this 1999 sleeper.
Cold Blooded: Jason Priestly plays a mob hit man and hilarity ensues. No kidding.
Godfather One and Two: See, you are already getting your money's worth… The third installment, however, blows.
American Me: Violent, horrific and poignant. Thinking about going to prison? Rent this and change your mind!
Donnie Brasco: Based on a true story. Stars Johnny Depp and Al Pacino as FBI mob infiltrator and infiltratee.
Usual Suspects: One of the best films of the 90's. Could fit into other categories as well but definitely deserves gangsta props. Super cool.
The Killer: Woo and Fat get the nod for sheer number of bullets fired and coolness exuded.
Goodfellas: Epic storytelling and superior acting combine here for one of the best mob flicks ever made. Thank you, Marty.
Scarface: Despite Pfeiffer's presence, this movie kicks some serious butt.
Hardboiled: Woo and Fat together again for some serious weapons discharge.
So that's this week's To(p) Eleven. Have a list you would like me to try to generate? Send me a request.